Regular price
€500,00 EUR
Regular price
Sale price
€500,00 EUR
Unit price
per
Sale
Sold out
Shipping and returns

2-4 weeks delivery time

2 weeks right of return

Künstlerin: Rosa aus Mexiko
Tauche ein in die Intimität der Nacht mit dem Ölgemälde auf Leinwand "Rumores de la Noche". Inspiriert von der heimlichen Liebesgeschichte zwischen Ana Frank und dem Sohn einer anderen Familie während ihrer Versteckzeit in einem Gebäude, fängt das Werk die Essenz ihrer einzigartigen Verbindung ein. Der Raum unter dem offenen Dach, ihr geheimer Aussichtspunkt, ermöglicht es ihnen, das Leben draußen zu beobachten: Vögel, die am Himmel tanzen, und der Wechsel der Jahreszeiten. Dieser Zufluchtsort im Versteck wird zum Schauplatz von unangenehmen Momenten während der umgebenden Spannung. Wie ein Flüstern in der Nacht verewigt das Gemälde auch den ersten Kuss, eine bewegende Begegnung auf dem Weg zur Freiheit. Das Werk lädt dich ein, in das feine Gewebe von Emotionen einzutauchen, das in jedem Pinselstrich verwoben ist, und erkundet die Liebe in Zeiten der Heimlichkeit sowie die ersehnte Freiheit, die jeder Kuss verspricht.
View full details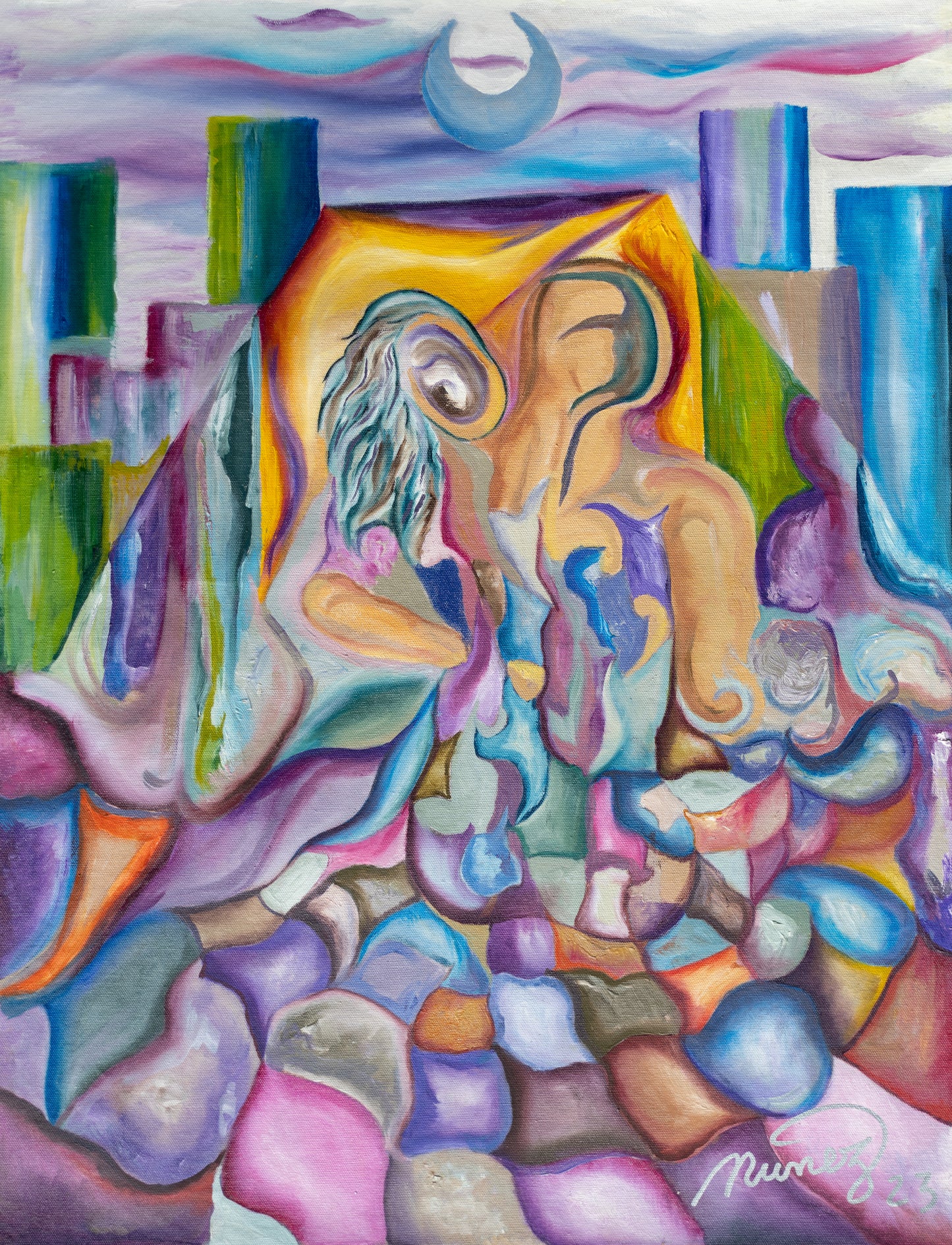 100% UFUNDI
100% HAND PAINTED

Each painting is unique and therefore something very special. All products are handmade and hand painted in Tanzania. Since our products are handicrafts, no two products are exactly alike.
Find out more in our FAQ's !
100% FOR OUR VISION

We are a social enterprise. Our profits are used entirely for our charitable purposes. More information can be found here!

Part of the sales price is donated directly back to our partner school in Tanzania. You can find out more about our partner school under " Social Project ". The other is used to expand our network and thus support other artists worldwide.
100% FAIR

With your purchase you directly support the artist from Tanzania. In this way you support him in receiving a fair and more regulated income. Find out more about the artist of the picture in the " Artist " section.